6 Ways Educators Can Overcome Language Barriers with Parents
When Anabel Gonzalez was a little girl, her mother prepared her a bottle of café con leche (coffee with milk) every morning to take to school. Gonzalez, who is of Cuban descent, didn't think much of it—until one day, her third-grade teacher asked in shock, "How could a parent give a child coffee in the morning?"
Gonzalez remembers feeling embarrassed and singled out. What she considered normal as part of her culture was being questioned by an educator. Years later, when Gonzalez became a teacher in a class for students learning English as a second language, she vowed to provide her students with a level of compassion and understanding for cultural differences that she wished she had growing up.
"It's about accepting students as they are and where they're from," Gonzalez said.
For any educator, being mindful of students' cultural differences, including languages spoken with their families, is an essential part of creating a welcoming space that is optimal for learning. And part of being a mindful educator is figuring out how best to facilitate parental involvement in education when English is not a parent's first language while also respecting the cultures of the students and their families.
Bilingual education expert Jessica Padrón Meehan, Ed.D., points out that for many cultures, an educator's degree earns them a level of respect with parents, who will comply with much of what is asked of them. An educator imposing their views on whether English should be spoken at home, however, can cross a line.
"It's about accepting students as they are and where they're from."
"The power and influence that you have over families and their actions should be thought about carefully as to avoid overstepping your boundaries," said Meehan, who is also a lecturer with Baylor University School of Education's Doctor of Education in Learning and Organizational Change online program. "Partner with the parent and work together to determine the best plan of action as to make sure that the student is successful in school."
By working closely and communicating openly with parents on how to navigate language barriers, educators can make the school experience more accessible and accepting to all students.
How Can Language Barriers Affect Parental Involvement in Education?
Parental involvement in school can improve academic performance and increase the likelihood that students will graduate.
Joyce Epstein, Ph.D., a sociology professor at Johns Hopkins University, outlines six different ways that schools and parents can work together (PDF, 112 KB):
Parenting:
Assist families in creating a home environment conducive to learning by providing support programs centered around health and nutrition, which helps to educate parents, and checking in on families during educational transitions.


Communicating:
Establish effective school-to-home communication by hosting parent-teacher conferences, providing language translators, and consistently updating parents through newsletters and phone calls.


Volunteering:
Recruit parents to participate in volunteer programs within the school and make sure they stay up to date on upcoming opportunities.


Learning at home:
Help parents provide support to students with homework and schoolwork by ensuring they have information about the skills required for assignments, as well as homework policies.


Decision-making:
Encourage parents to participate in school decisions through PTA organizations, district-level advisory councils, and committees.


Collaborating with community:
Connect families to broader community resources related to community health, social support services, and activities such as summer programs for students.
Language can be a barrier to engaging parents in different forms of involvement. Meehan uses homework as an example. While parents may have the abilities or skill sets to complete certain assignments, because they do not understand what is written in the assignment, they may be unable to help as much as they would like to.
"That could unintentionally hurt the student's grade and they could lose out on a homework grade or on the extra practice that the teacher intended," Meehan said.
The effects of language barriers extend beyond classwork and can bleed into participation in other school-related activities. The Parent and Family Involvement in Education: Results from the National Household Education Surveys Program of 2016 (PDF, 1.9 MB) report from the National Center for Education Statistics indicates that, in 2016, the parents of children in kindergarten through grade 12 who did not speak English had lower levels of participation in a range of school-related activities than their English-speaking counterparts. Some of the largest gaps in participation were related to volunteering, participating in school fundraising, and attending a class event.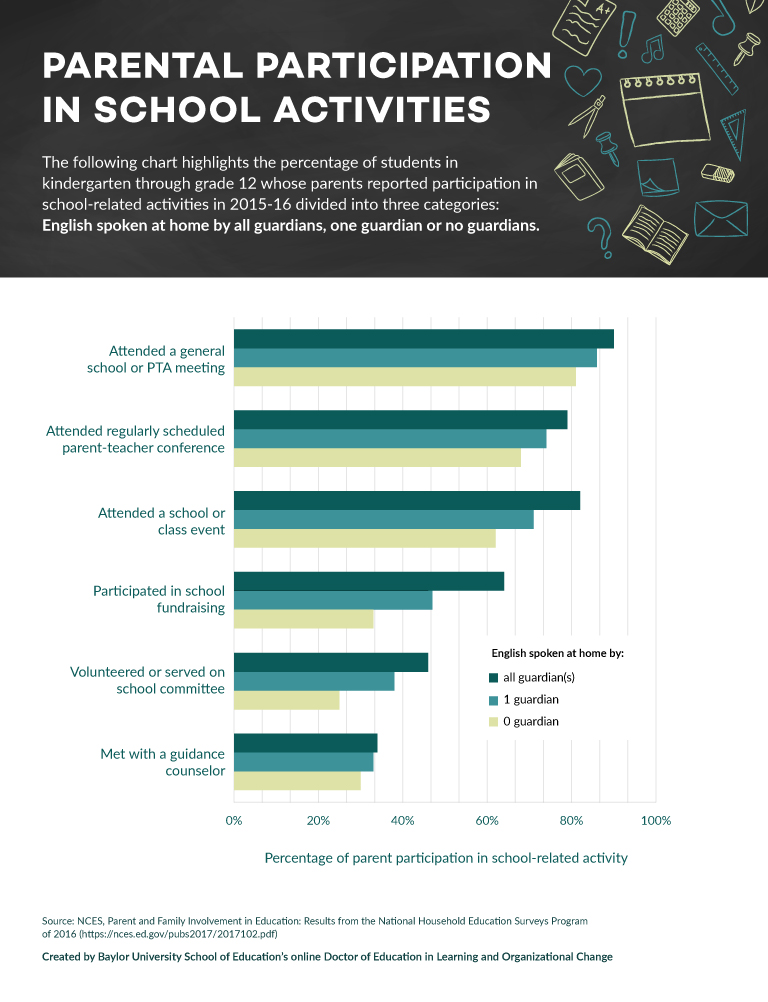 Source: McQuiggan, M., & Megra, M. (2017). Parent and family involvement in education: Results from the National Household Education Surveys program of 2016. (NCES 2017-102). U.S. Department of Education. Washington, D.C.: National Center for Education Statistics. Retrieved from https://nces.ed.gov/pubs2017/2017102.pdf
Go to a tabular version of the data at the bottom of the page for information about parental participation in school activities.
How Can Educators Better Engage Parents with Limited English Proficiency?
The obvious bridge between the teacher and the parent is the child. And being able to translate can be a positive skill for young people to learn.
"I actually think it's a quite complex, cognitive function that they're using and is a gift and an asset to begin with," Meehan said. "But, of course, you don't want to overburden or stress the child."
Sensitive information, academic struggles, and information related to behavior are examples of conversation topics that may be better left to the parent and the teacher.
But without the help of a child, how can teachers overcome communication hurdles? Meehan says educators and school staff need to think creatively.
6 Steps to Improve Communication Between Teachers and Non-English–Speaking Parents
STEP 1
ALLOW PARENTS TO COMMUNICATE IN THEIR LANGUAGE.
Use professional translators. The obvious first step that educators can take is to ensure that a professional translator or interpreter is included in any parent-teacher meetings. Teachers should also try to translate any important notices or documents that are sent out to parents.
Rely on emerging technology like apps with translation features. Not every educator has the capability of and budget for translating all of their materials into multiple languages. Thankfully, some teachers have begun to use apps that have translation features. Meehan points to apps like TalkingPoints, ClassDojo, Bloomz, Remind, and Smore as potential resources teachers can turn to if they need help translating.
STEP 2
BE CLEAR, CONCISE, AND POSITIVE.
Use direct language. Avoid educational jargon, idioms, figurative language, and expressions, which can muddy the meaning of what you are trying to communicate.
Use a positive tone and celebrate successes. Avoid only communicating to parents when a child is misbehaving or when something negative is happening. Be mindful of what your body language communicates — smiling goes a long way.
Remember that you are communicating with an adult. Don't talk too loudly or emphasize language that is too simple; this can come off as condescending.
STEP 3
USE VISUAL CUES.
Make use of calendars with easily understandable icons. As much as possible, plan long-term and use symbols to represent important events. A camera can mean picture day; a paper with a letter grade can indicate an important test.
Color-code notices and assignments. Use different color paper or text, if communication is happening online, to signify who needs to read the communication or take action. Blue can represent homework, yellow can represent general class notice, and red can represent the need for a parent meeting.
Incorporate pictures into notices and newsletters. Simply being able to see what an event looks like can enable parents to better understand what will happen and what may be expected of them in order to participate. For example, parents may want to know how they should dress for a more formal fundraiser as opposed to a volunteer event outdoors.
STEP 4
PROVIDE EXAMPLES OF LESSONS OR COMPLETED SCHOOL WORK.
Take videos of lessons when possible. Again, parents may have the capability to complete an assignment but simply may not know what the assignment requires. Watching a recording of how to solve a math problem, for example, can better equip parents to work through the problem with their children.
Give samples of finished work. For a larger assignment, seeing a student's previous work can give parents a better sense of what should be included in a completed assignment.
STEP 5
ENCOURAGE COLLABORATIVE WORK.
Create a system in which students can rely on designated homework buddies. There are instances where parents will not be able to provide the help that students need. Encouraging students to work together can help them better understand lessons and build interpersonal skills.
Host a homework club. Allow parents to sit in on, watch, and potentially participate as groups solve homework problems together.
STEP 6
SHOW AN INTEREST IN FAMILIES' CULTURES.
Research students' cultures and use that knowledge to inform how you interact with parents. Showing that you recognize the importance of culture through everything from classroom design to assignments can signal to parents that you care and are respectful of different values and beliefs.
Encourage representation of cultures outside of just class work. Including presenters who speak different languages at parent meetings or volunteer events will help parents feel more comfortable and included.
Expanding the classroom to be more inclusive of parents and students from different cultural backgrounds can be challenging, but Meehan believes it's worth the effort.
"The more diversity you have in your classroom, the more your classroom as a whole is exposed to different ways of doing things," Meehan said. "And when we have that opportunity to understand each other and different cultures, it encourages us to be open-minded."
The following section contains tabular data from the graphic in the post.
Parental Participation in School Activities
| Parent participation in school-related activity | Percentage of students whose guardian(s) speak(s) English | Percentage of students with one guardian who speaks English | Percentage of students without an English-speaking guardian |
| --- | --- | --- | --- |
| Attended a general school or PTA meeting | 90% | 86% | 81% |
| Attended regularly scheduled parent-teacher conference | 79% | 74% | 68% |
| Attended a school or class event | 82% | 71% | 62% |
| Volunteered or served on school committee | 46% | 38% | 25% |
| Participated in school fundraising | 64% | 47% | 33% |
| Met with a guidance counselor | 34% | 33% | 30% |
Citation for this content: Baylor's EdD online in Learning and Organizational Change.