Meet the EdD Students Leading Positive Change
The Baylor University online EdD community is unified by the belief that education has the power to shape our world for the better. Our students are values-driven, passionate leaders ready to bring positive and systemic change to their communities. Learn more about them below.
A Diverse Community of Changemakers 
Through the online EdD in Learning and Organizational Change program at Baylor, we are committed to celebrating the diversity of individuals who join our learning community. The program creates an environment where respect for every person helps us learn from one another.
The faculty and staff in the EdD program affirm our commitment to trust, respect, and diversity. At Baylor, we are committed to fostering an academic community that values the freedoms that create a marketplace of ideas and safeguards them.
Further, Baylor is committed to building a caring Christian community in which all members feel safe, respected, and supported. Learn more about Baylor's commitment to diversity and inclusion. 
Online EdD Class Profile
Below, you will find a snapshot of the diverse demographics of the student population in the online EdD in Learning and Organizational Change program.
(The following information is based on self-reported data from students in our August 2018 to August 2022 cohorts.)
13
Average years of work experience
13%
Military Affiliated
(veterans and active duty)
Chart shows 40% of students are White/Caucasian, 28% are Black or African-American, 16% are Hispanic, 7% are two or more races, 4% are Asian and 1% are American Indian or Alaskan Native.
Chart shows 74% of students as female, and 26% as male.
Relevant Experience Prior to Program
Instructional design director
Curriculum lead
Vice principal
Human resources manager
DEI manager
Business manager
Training and development director
Geographic Locations
Our students attend classes from international cities and 46 states across the country, enabling them to network with passionate professionals nationwide.
Map shows the United States with all states highlighted, except Delaware, Maine, North Dakota, and West Virginia.
"I wanted the flexibility of being able to do my work from anywhere. I also wanted that ability to have a really great relationship with our faculty and staff as well as with my other cohort members, and I knew I'd get that at Baylor."
The Baylor EdD Student Profile
Baylor's EdD online program equips passionate leaders with the tools to bring tangible solutions to their workplace, from higher education and K–12 schools and systems to private and nonprofit firms and government agencies.
We look for students who are ready to work together, share diverse experiences and knowledge, and create long-lasting positive change in their organizations and communities. Our strongest students and applicants have the following background and credentials:
(These are not applicant requirements. Please note that each application is evaluated holistically.)
Requirements
Bachelor and master's degree, regionally accredited
At least two years of professional work experience
Master's GPA of 3.0 higher
Preferred Qualifications
Master's GPA — 3.5 or higher
Master's degree — strong performance in research-related coursework that could include statistics and research methods
Relevant professional work experience — more than two years of full-time work experience
Leadership experience – professional history of an increasing trajectory of responsibilities and growth
Variety of professional backgrounds – experience in education, administration, human resources, military, healthcare, entrepreneurship, government, civil services, or a similar field
"The ideal applicant has at least two years of professional experience, a graduate GPA of 3.5–4.0, and a focused Problem of Practice dissertation topic, and can demonstrate a trajectory of increasing leadership experience.
Successful students in the online EdD in Learning and Organizational Change demonstrate their commitment to excellence by engaging with and responding to feedback, communicating with professionalism, and exhibiting time management skills."
-Dr. Laila Sanguras, graduate program director
Career Outcomes
"The cohort model is fantastic for fostering community amongst scholarly practitioners. After graduating, you're welcomed into a large alumni network that offers support and encouragement for future endeavors."
Graduates become agents of change in their chosen field. The EdD in Learning & Organizational Change online program prepares you to lead in a variety of professional roles, including:
Individuals working in these positions manage processes, policies, and people, and develop and execute against strategy to meet organizational goals. Salary varies by position and experience. The median annual salary for a chief executive in 2021 was $179,520.1
Tasked with ensuring that the administrative functions of an organization run smoothly, these individuals facilitate recruitment and hiring, oversee benefits programs, and manage employee relations. In 2021, the median annual salary for a human resources manager was $126,230.2
Diversity, Equity, and Inclusion (DEI) Officers
With organizations making a greater commitment to DEI efforts, DEI officers are needed to hold leadership accountable for meeting benchmarks and to perform a wide range of duties, such as advocating for underrepresented talent by addressing bias in hiring practices and performance management.
Postsecondary Administrators
These individuals supervise student services, academics, and faculty research at postsecondary institutions. In 2021, the median annual salary for post secondary administrators was $96,910.3
K–12 School System Administrators
These individuals manage the budget, staffing, and academic programs of elementary, middle, and high schools. K–12 leaders made a median annual salary of $98,420 in 2021.4
Testimonials
Hear directly from EDd online graduates about their experience.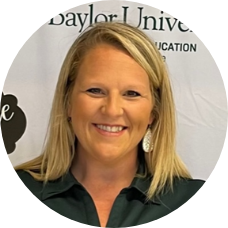 "I chose Baylor because I want to be a change agent, and this program is designed to teach us how to identify issues and problems in the workplace and fix them. I also have a few programs that I am developing, and the EDD-LOC program has equipped me with the tools that I need to do just that."
-Dr. Laurie K. Webb, EdD in Learning and Organizational Change graduate '22
"The program is holistically designed with particular intent to support the interpersonal, academic, and professional development of the student throughout their tenure at Baylor."
-Dr. Nick DiDio, EdD in Learning and Organizational Change graduate '22
"I came to Baylor looking for a challenge and a new sense of purpose, professionally and personally, and I found that. The relationships with your fellow students are incredible, but the most important relationship you will have is with your faculty advisor. When you don't believe you can do one more paper, one more revision, or anything, your faculty advisor pushes you forward and reminds you that you are worthy of this journey. My experience in Baylor's EdD program was terrific!"
–Dr. Tammie B. May, EdD in Learning and Organizational Change graduate '22
Lead Positive Change With Us
Find out if Baylor University's EdD online is the right fit for your future. Request information or start your application today.
Request Information
1Chief Executives, Bureau of Labor Statistics, May 2021.arrow_upwardReturn to footnote reference
2Human Resources Manager, Bureau of Labor Statistics, May 2021.arrow_upwardReturn to footnote reference
3Postsecondary Education Administrators, Bureau of Labor Statistics, May 2021.arrow_upwardReturn to footnote reference
4Elementary, Middle, and High School Principals, Bureau of Labor Statistics, May 2021.arrow_upwardReturn to footnote reference